The OXBAR RRD is a  new disposable vape. It's different from what you might be used to when you think about a disposable because the RRD is a Refillable and Rechargeable Disposable. You can purchase it either as a standalone device or as part of a kit where OXBAR includes the ejuice in a separate bottle.
The RRD can hold up to 5.5ml of ejuice and OXBAR says that it's good for a minimum of three refills and up to 8000 puffs. The RRD has a built-in 550mAh battery that recharges with Type-C charging. Once the coil starts losing flavor, you can toss the RRD in an electronic recycling bin just as you would with other disposables.
Obviously, the benefit to the RRD is that it's just as easy to use as a disposable, except you can refill it multiple times. However, I've never been a fan of "refillable disposables" as I feel like they could have just as easily been pod vapes instead. 
Can the RRD change my mind on refillable disposables? Better yet, is it a device that you should consider?
This device was sent to me by OXBAR for the purpose of this review.
---
Box Contents
RRD Pod
1 x RRD Pod Device

1 x User Manual
RRD Kit
1 x RRD Pod Device

1 x Bottle of Ejuice

1 x User Manual
---
Specifications
Size: 76.5mm x 34.5mm x 13.5mm
550mAh rechargeable battery
Type-C Charging
Does not come pre-filled; refillable
Up to 8000 puffs
Mesh Coil
10 Colors
---
Design & Build Quality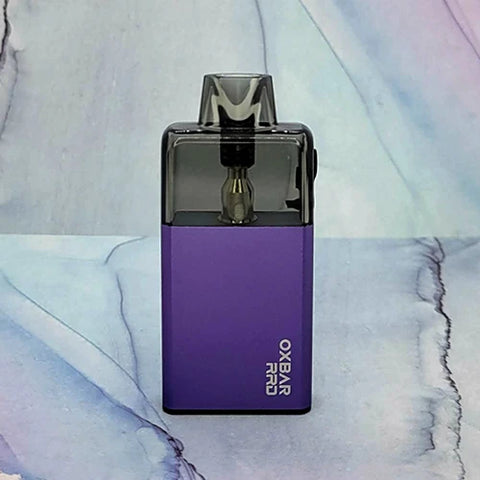 It's a shame that the RRD is meant to be thrown away once you're done with it because it's a very nice looking device. It's tiny, even by disposable standards, measuring out at 76.5mm tall, 34.5mm wide, and 13.5mm thick. It also remains light, even with a full pod of ejuice.
I can easily palm and conceal the entire device for some stealthy vape draws. The rectangle shaped body is comfortable to hold thanks to the rounded edges and it feels like a solid device. I really feel like OXBAR missed an opportunity here to make this a standalone pod device. If they had just made the pod removable then this could have been a great tiny pod vape.
The RRD comes in ten different colors, all of which feature a matte body with a metallic sheen. The finish of the paint is excellent and gives the impression of a permanent device rather than a disposable one. On the front side there is the OXBAR RRD logo, but otherwise there is no other visible branding.
The pod for the RRD is huge and takes up the top-third of the device. It's very easy to see the contents as it's only lightly tinted, and the pod will hold up to 5.5ml of ejuice if you get the standard version. There is also a TPD version available which will hold up to 2ml of ejuice.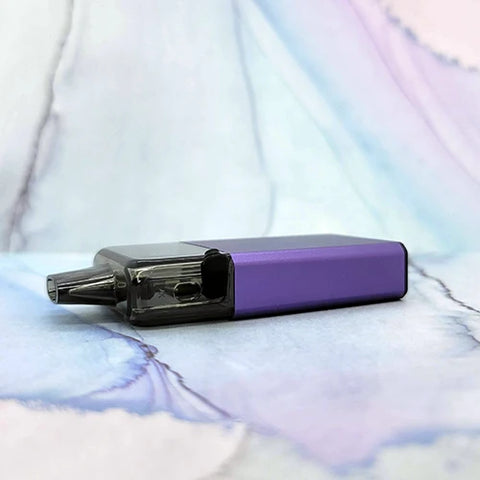 There is a fill port on the side of the pod which is plugged by a thick rubber bung. The fill port is a nice size and I had no trouble filling the pod with any of my ejuice bottles. The rubber bung does a good job of sealing the port and it's deep enough that it effectively prevents any leakage.
The mouthpiece is built onto the top of the pod. It's an oval shaped mouthpiece with a wide bore. I've found it comfortable to use and I have no complaints about it.
The RRD has a built-in 550mAh battery. On the bottom of the device is where you will find the Type-C charging port. There's also a red button which needs to be pressed in order to activate the device. When you first take the RRD out of the box, you'll want to fill up the pod and press this red button. After waiting 5-10 minutes, you're good to go. The RRD is draw activated, so all that you have to do is inhale on the mouthpiece to start vaping.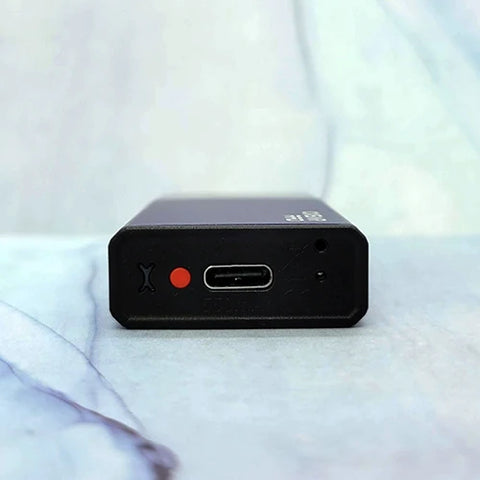 Also on the bottom of the RRD is the LED indicator. It's in the shape of an X and it lights up white each time that you take a draw. Unfortunately, it does not change color to indicate that your battery life is running low, but you can definitely feel a difference in the draw as the battery dies. It would have been helpful to have different LED colors to better convey the battery charge status, because as it is now the battery can easily die on you without any real warning.
---
RRD Pod vs RRD Kit
You have two options when you go to purchase the RRD: the RRD Pod or the RRD Kit. The RRD Pod is what I'm using for this review. It's just the standalone RRD device and it does not include any ejuice. With this option you're expected to fill the pod yourself with your own ejuice.
The second option is the RRD Kit. This kit includes ejuice from OXBAR and there are eight flavor options available:
Banana Ice Cream

Blue Razz

Energy

Peach Mango

Pink Lemonade

Fruity Hawaii

Watermelon Ice

Pina Colada
A 15ml bottle of 5% ejuice comes with the standard kit and a 10ml bottle of 2% ejuice comes with the TPD compliant kit.
---
Performance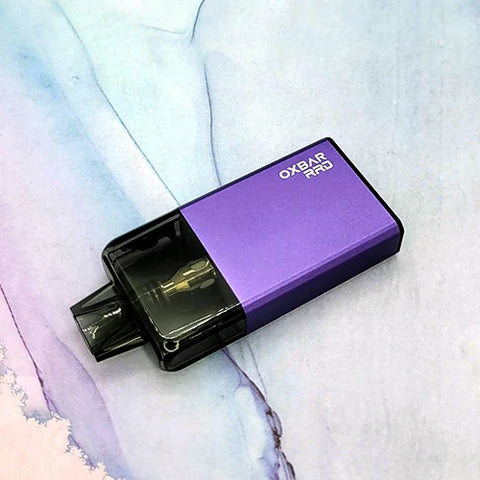 The RRD Pod has a 1.0Ω mesh coil so it's a high enough resistance that it can be used to comfortably vape on high-strength nicotine salts. During the time that I used the RRD, I used a 25mg, 35mg, and 50mg nicotine salt ejuice and it worked well with all three. All three of these ejuices have a 60VG ratio.
The 50mg nicotine salt in the RRD delivers a strong draw that is similar to other 50mg disposables that I've tried. The 25mg and 35mg nic salts that I used delivered a milder draw that was still satisfying and again, very similar to other disposables that I've used in the same nicotine range in terms of the strength of the draw.
The flavor from the RRD Pod is good and I would place it somewhere in between a good pod vape and a good disposable. I like to use mostly fruity ejuices and, although they're not quite as flavorful as they would be in one of my preferred pod vapes, the RRD produces good flavor.
On to the draw. It's a loose MTL draw that is not adjustable. I would have liked it to be a tighter draw, just for my personal preference. It's not airy though, which is nice.
I did not face any issues with the coil wicking properly. The built-in coil does a good job of quickly wicking ejuice so even taking many draws one after another did not give me any dry or burnt hits.
How many times can you refill the RRD? Well I refilled it three times before I started to taste any drop off in flavor. It started to lose flavor near the end of my third pod, so that's 16ml+ of ejuice from a single device. Compared to other disposables, and even pod vapes, that's a lot of vaping time from a single coil and that's impressive.
---
Verdict
The RRD Pod is a nice device but I think that OXBAR missed a huge opportunity here. Instead of a disposable, the RRD Pod could have easily been a standalone pod device that takes replaceable pods. Even after using it, I'm still of the opinion that refillable disposables are pointless. 
If you want the option of refilling a device with your own ejuice, you might as well go for a pod vape that you can continue to use by just replacing the pod, rather than something like the RRD where you have to throw the entire device away once the coil is finished.
If you want a device that you can just throw away once you're done with it, you can just get a true disposable vape. 
Devices like the RRD are certainly less wasteful than other disposables, I will give it that, but it could have been even less wasteful by using replaceable pods or coils.
My personal opinions on refillable disposables aside, the RRD Pod is a good device overall. It has a nice design and good build quality, so it looks and feels more like a pod vape than a disposable. The performance is also good, allowing you to vape over 16ml of ejuice before it starts to lose flavor. 
I still think that you should just go with a pod vape or a true disposable vape (OXVA/OXBAR makes those too!). But if you're set on a device that you can refill, recharge, and then throw away once you're done with it, the RRD Pod is the best option that I've tried.
(Article source: https://versedvaper.com/oxbar-rrd-pod-review/ )